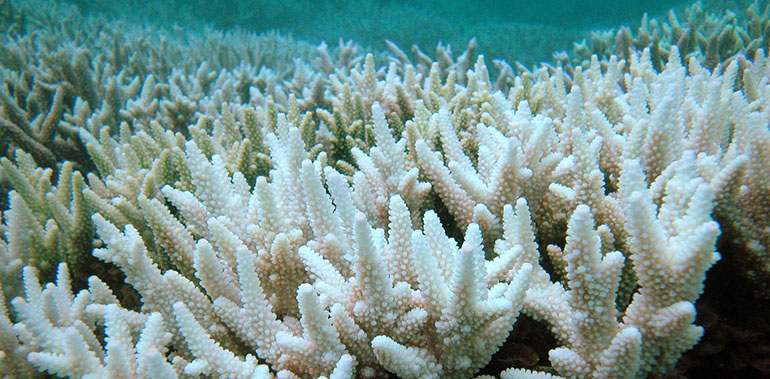 Samantha Zeitz
Warmer weather might signal the start of beach season, but for the organisms living in some waters it could signal bleach season.
Scientists at the Australian Research Council's coral reef program at James Cook University have found that Australia's Great Barrier Reef is experiencing extensive bleaching once again. This is the second time in a 12-month period that this has happened. Last year when the bleaching epidemic occurred, it was powered by a natural warming period –El Nino. Well-known publications like National Geographic report that it is believed; climate change has been the leading cause this year.
When corals lose algae, which are their main food source, they become bleached and weak. Typically the corals turn white. This generally happens when they are exposed to pollutants, excess sunlight, or hot waters. This doesn't necessary kill the coral, but it increases the risk. If the water cools back to normal temperatures, the coral could recover but that takes at least ten years. According to Terry Hughes, director of the coral reef program at James Cook, the reason we should be worried about this is because bleaching is happening too often for the corals to recover.
This problem isn't only impacting Australia. Scientists have told news agencies that coral all over the world are being killed slowly with the gradual increase in temperature. This poses a threat to over 500 million people who rely on marine animals for their daily protein. Twenty-five percent of the world's fish can be found living in coral reefs. Besides helping feed our population, reefs also provide protection to shorelines by reducing storm surges that could devastate coastal regions.
Coral reef expert and director of the University of Hawaii's Kewalo Marine Laboratory, Robert Richmond, has said to save the reefs we need to reduce our greenhouse gas emissions immediately. There are also smaller threats to corals such as sedimentation and overfishing that need to be addressed.
U.S. government scientists are predicting El Nino weather patterns could return by the end of 2017, increase temperatures further, and potentially kill off more coral. There is still hope though. Terry Hughes conducted a major study that indicated it's not too late to save the corals. If we work towards reducing emissions and stabilizing temperatures, we could keep the reefs alive.