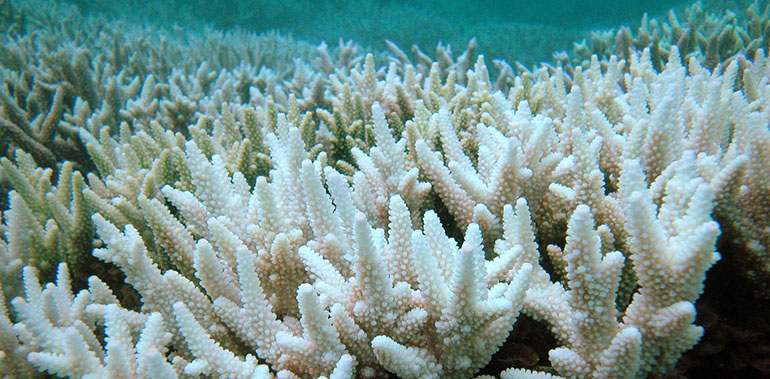 Kirsten Long
Visiting the Great Barrier Reef is among the top three reasons tourists travel to Australia. This coral reef is the largest living structure on Earth but it is under attack by natural forces that will not only be detrimental to the reef itself but also to tourism.
Research shows that bleaching is driving tourists away and making coral vulnerable to disease. The National Ocean Service tells us that when there is a change in the corals' living conditions, including warmer water temperatures, amount of light, and nutrients, the algae that lives in their tissue, expels turning the coral white. When the algae leave, the coral loses its source of food and become very vulnerable to diseases.
According to the Guardian, the largest coral bleaching event to ever be recorded took place in the third quarter of 2016, severely affecting the coral reefs. A survey conducted at Cairns airport, revealed that the report of the bleaching caused the reef to drop to 12th place among reasons to visit tropical north city. The Centre of Tourism at Central Queensland University has suggested that Cairns start focusing on the development of other tourist attractions in order to make up for the lost visitors.
Most visitors to Cairns in recent years have been aware of the coral bleaching and have reported high levels of concern about the problem, which suggests that if the bleaching keeps repeating itself, it could create a long-term negative image for the destination. The Great Barrier Reef is featured in many of Australia's tourism promotions but the target market may change purchasing decisions and the tourism business could face a major decline in visitors. In 2017, the bleaching moved further south sparking the tourism industry to advocate for change.
Areas that are not located on the Great Barrier Reef have been experiencing a decline in tourism as well. The tourism in Whitsundays, which is isolated from the coral bleaching damage, has seen a slip in tourist numbers because of the damage of cyclone Debbie. This severe weather, the coral bleaching and climate change go hand in hand. Climate change has been affecting the planet in many ways and experts say it has played a part in the cause of coral bleaching and stronger storms like cyclone Debbie.
The United States also experienced a major bleaching event in 2005 and half of the coral reefs in the Caribbean were lost due to warm ocean waters. Only five years later, the ocean temperatures were too cold in the Florida Keys and coral died.
Coral can survive a bleaching event, although it leaves them very susceptible to mortality, which means the marine invertebrate need all of us to work harder to minimize global warming.