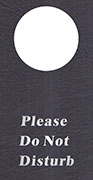 Kirsten Long
It's no secret that the environment is a hot topic, especially in light of U.S President, Donald Trump pulling the country out of the Paris Climate Accord. It doesn't seem that the move has had much of an impact on attempts by various industries to become more eco-friendly though. This includes the tourism industry.
Over the last decade, tourism industry officials have been discussing how to make travelling more sustainable. Ecotourism promotes the idea of travelers helping the environment while saving money at the same time.
One way that people become more eco-friendly tourists is by staying at green hotels. For example, the ITC Maurya, a hotel in New Delhi, is doings its part in becoming greener by using solar boilers for bathing, cooking, and laundry. Many people might not stop to consider how much electricity and harsh chemicals are being used by hotels to clean rooms and do mounds of laundry everyday, which can be prevented by leaving the "Do Not Disturb" sign on the door. Another tactic for travellers to consider is taking green transportation like E-bikes and cycles, which can greatly reduce the carbon footprint in the country being visited. Some of the smaller and simpler ways to increase your eco-friendliness while travelling is by packing light, bringing reusable water bottles and recycling. Being mindful of what the items you buy are made of can even make the slightest difference. Below are a few more suggestions for ecotourism.
• Before leaving for your trip source out restaurants that provide organic and sustainably sourced foods.
• Bring your own toiletries, such as a cup, instead of using disposable ones that might be provided.
• Don't eat at places that use disposable cups, plates etc.
• Unplug appliances when you leave a hotel room
• Choose a hybrid when renting a car
• Don't touch wildlife, habitats or monuments
Tourism is one of the world's largest industries. In fact, according to the Center for Responsible Travel, four out of five countries rank tourism as one of the top five export earners. Environmental concerns have made their way onto the traveler's agenda. A number of market studies over the last five years suggest that interest among consumers in tourism that protects the environment and respects local cultures is growing.