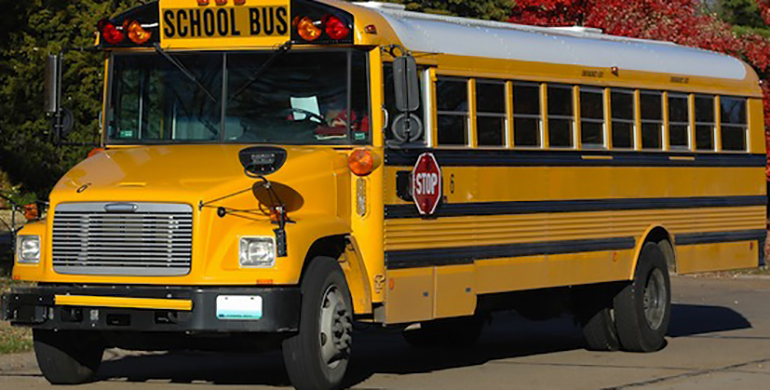 Kirsten Long
It looks like in the not-so-distant future, electric cars are not the only vehicles that will be on the road aiding in the preservation of our planet. School buses are now being made electric and we could be seeing a full line-up of electric vehicles ranging from buses to trucks on the roadways very soon.
A small city named Saint-Jerome that is situated about a half an hour outside of Montreal, Quebec is home to Lion Electric Co., a school bus manufacturer that is helping to make our planet greener. Over the past few years they have shifted production to building electric buses. With the delivery of 40 buses over the past year to California, they are now considered the largest electric bus line in North America. These buses have a range from 90 to 150 km.
Lion Electric developed their own electric powertrain technology and is using this expertise to make a full line-up of all electric vehicles ranging from small shuttle buses to heavy-duty electric trucks. Electrek is a news site that tracks the transition from fossil fuel use to electric vehicles. They have reported that although these trucks are designed for urban transportation, they will have a significant range and load capacity. As for shuttle buses, these will be equipped with an 80kWh battery and will have a frame built to fit two of these batteries. This will allow the vehicle to have a sizeable range. As well, the packs can be reused in forklifts for high usage applications.
A new report by Environment America, suggests that making a full changeover to electric school buses would be a smart decision for the health of the environment. The report suggests that if America's 480,000 buses were switched to electric buses, we could be cutting greenhouse gas emissions and toxic air pollution by an average 5.3 million tons each year. Not only are these emissions climate changing, they are also extremely harmful to children, as kids are directly exposed whether they are on the bus or boarding the bus. Respiratory diseases and the intensifying of conditions like asthma are caused from inhaling diesel exhaust and are pronounced especially in children. These all-electric buses have zero tailpipe emissions, which make them cleaner, healthier and even cheaper in the long run.