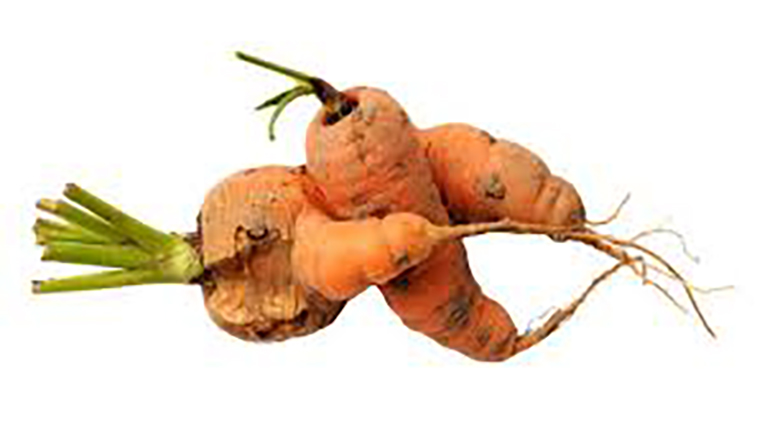 Teresa Madaleno
We have shared the idea of consuming less than perfect fruits and vegetables in previous blog posts but what we'd like to do now is highlight how selling ugly produce can make good business sense while also helping the environment.
Have you ever heard of Full Harvest? If not, check it out at www.fullharvest.com. It is the first business-to-business online marketplace for ugly surplus fruits and veggies. The founder of the company, who worked in the food and logistics industries for several years, set up Full Harvest in 2015 to address food waste. Christine Moseley has stated that she knew how the food industry paid top dollar for good-looking produce but was also aware that there was really nothing wrong with the less than perfect looking produce that was simply thrown away. Full Harvest sources fruits and vegetables from the U.S., Costa Rica and Mexico. The Full Harvest website invites sellers to offer up there "ugly" products and encourages buyers to purchase it at a lower price than the pretty produce you find in most supermarkets. Full Harvest takes a small cut per transaction. The process allows farmers to make revenue that they wouldn't normally make, allows consumers to save money and helps divert waste. You can think of Full Harvest as a food broker.
The company, located in California is growing and according to Greenbiz, there are plans to expand it into a national platform and hopefully one day a global operation. Last year Full Harvest was on Forbes list of 25 most innovative Ag-Tech start-ups and has been featured in Bloomberg, Entrepreneur Magazine, The San Francisco Chronicle, as well as Food and Wine Magazine.
In the United States alone, food waste is estimated to be between 30 and 40 percent of the food supply. Efforts like the one designed by Full Harvest are collectively taking a bite out of this statistic. One of the biggest concerns about food waste is that it generates methane, a powerful greenhouse gas. We also have to remember that the processes to create the food in the first place also have a carbon footprint. Anything we can do to reduce waste is therefore helpful.