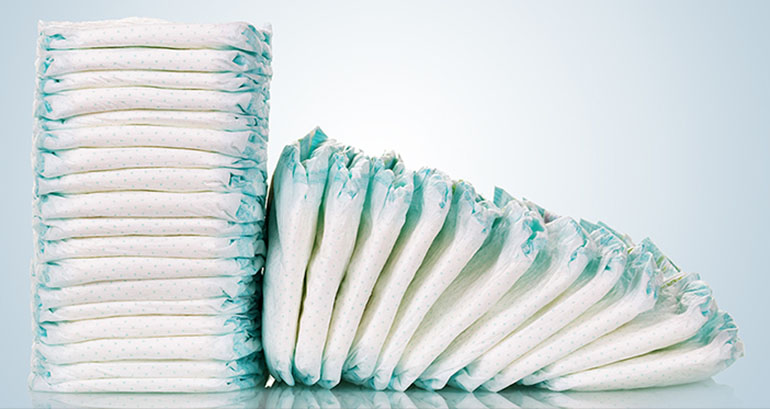 It's doubtful many of us stop to think about the enormous number of diapers that are used every year. Disposable diapers were designed as a convenient way to absorb the mess from babies bottom, but they pile up in our landfill sites. Each year in North America, about 20 billion diapers make it to the dump. Scientists report that it takes anywhere from 250 to 500 years for a diaper to decompose.
However, that diaper, soaked or soiled could be making money.
Knowaste in the UK could see that diapers or as they call them, "nappies" are big business and have a huge environmental impact. They became the country's first nappie recycling company. The wood fibre and plastics from diapers can be used to create other products. Some of those products include pet litter, waste containers, and insulation materials. According to experts in the chemical manufacturing industry, the recycled products can be used in coatings, lubricants and performance plastics as well.
Over the next five years Knowaste hopes to build five to seven special recycling facilities to handle an ambitious disposable diaper processing initiative. Currently, the company takes nappies and absorbent hygiene products from hospitals and nursing homes, but hopes to expand to the domestic sector.
Knowaste isn't the only player in the diaper recycling business. Envirocomp in New Zealand recycles diapers and turns them into soil for landscaping. As well, Pampers has established Fater, a venture with Italian hygiene products producer Angelini, to build a plant to recycle disposable diapers from curbside collection.
In the past, diaper-recycling efforts in both Europe and North America fell flat due to the fact that the process was expensive. Thanks to new emerging technology, there is more optimism that the practice will grow. Demand is also expected to increase as pressure to reach climate goals mount and our elderly population soars.
Life expectancy is increasing so the use of adult incontinence products is expected to increase as well. Add to this, the number of feminine hygiene products used each year and you have a big opportunity to divert waste, recycle and generate new revenue.