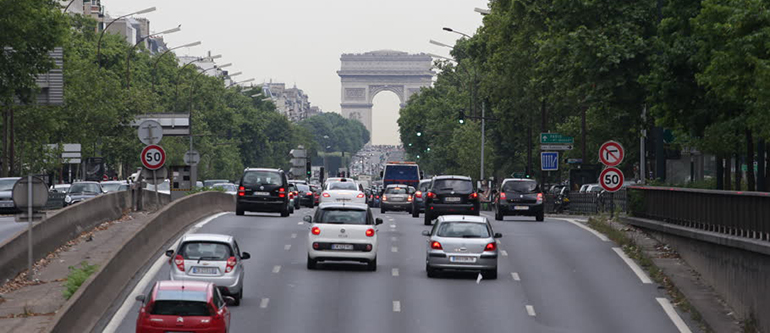 Jacqueline Mullin
The recent move by Paris City Hall to ban half of the automobile traffic in the city and its surrounding suburbs shone a spotlight on the dangerous air pollution levels suffocating the capital and raised serious questions about how to tackle their air quality problems.
While a somewhat rare decision (this was only the fourth-time Paris City Hall has imposed vehicle restrictions), harmful air pollution levels have been recorded nine times this year. AirParif, an air monitoring service in Paris explained that the high pollution was the result of exhaust and fire smoke trapped by the recent arrival of winter weather and a lack of wind.
Acknowledging the need for residents and visitors to have access to transportation to move to and from work, school, shopping, etc. Paris City Hall not only offered free public transportation, but also free access to Autolib electric cars and the Velib bike-sharing program while the restrictions were in place.
The problem of air pollution is not limited to Paris. Cities throughout France are facing the very real challenge of needing to reduce air pollution immediately and trying to identify opportunities for real and impactful long-term change.
Yahoo news reported that Green party presidential candidate; Yannick Jadot went as far as to say, "We have politicians who tell us they are looking after our health. The reality is that when they have to choose between traffic, diesel and our health, unfortunately they don't choose our health.
Research suggests that the extremely high volume of PM2.5 particles being inhaled by the French population can be blamed for various respiratory and cardiovascular illnesses. Moreover, a study performed by France's national health agency suggests that just under 10 percent of the country's annual mortality rate can be linked to pollution.
The World Health Organization (WHO) has suggested that the life expectancy of most of France's population will be reduced due to PM2.5 particle exposure. While it was a short-term strategy, the headline "Paris bans cars" will hopefully be a strong enough message to ignite positive change both within and outside of the country.