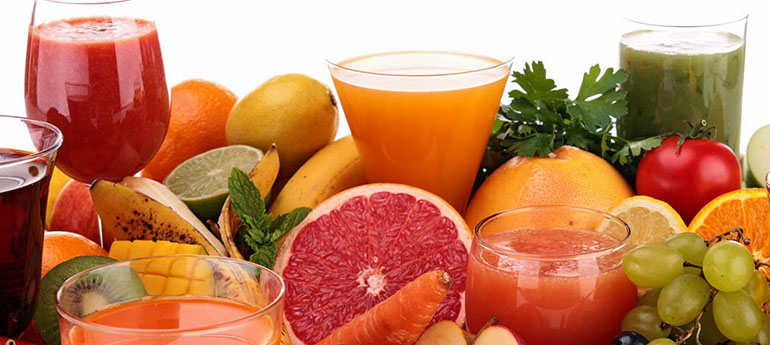 Samantha Zeitz
Montreal juice makers have discovered a way to get the most out of their surplus produce, thus diverting tons of fruits and vegetables from the waste stream.
Courchesne Larose Ltd, a large warehouse in Anjou, Montreal was responsible for almost 16 tons of food waste, every day. The family-run company has been trying to find a solution to this problem for decades. One of their executives believes juice could be the answer.
Frederic Monette, the great grandchild of Raoul Roughtier, one of the founders of Courchesne Larose, thought their fruit and vegetable waste could be used towards making juice. The 100-year-old company partnered with David Cote, the Montreal entrepreneur behind the vegetarian restaurant chain, Crudessence. Julie Poitras-Saulnier, who studied sustainable development and worked in marketing for responsible food products also joined the efforts. Monette focused on business details including supply chain, while Roughtier and Poitras-Saulnier oversaw the improvement of environmental performance. This is how Loop Juice or Jus Loop in French, was formed.
Having started in 1918, Courchesne Larose has become a major food supplier for grocery stores and other clients on the east coast of North America. Poitras-Saulnier has told local media that it's hard to pin point exactly how much food is needed in the industry and often food is in circulation too long and so ends up in a landfill. That is until they began juicing the leftover produce. Juice Loop looks to reduce 300 tons of fruit and vegetable waste by the end of 2017, and 525 tons in 2018. Right now the team reports that they have already saved 346,722kg of fruits and vegetables, 272,297kg of greenhouse gas emissions, and 238,581,060L of water. Once the juice is made there is pulp left behind, but even that doesn't go to waste. Juice loop uses the waste from already reused food waste to make pet treats.
The Quebec government has been supporting sustainable projects by providing financial support through Recyc-Quebec and a special government fund called, Fonds verts. Fond verts get most of its revenue from the sale of greenhouse gas credits, purchased by companies for use in the province's cap and trade market. Recyc-Quebec deemed Juice Loop an appropriate project so in June the company received $400,000 in government funding – money that will help Courchesne Larose Ltd. build their production line.