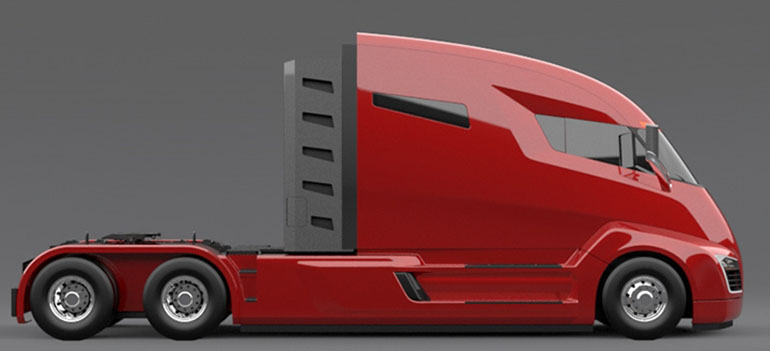 Teresa Madaleno
Loblaw Companies are going electric. The first week of November ('17) they unveiled a fully electric Class 8 truck.
The Canadian grocery and pharmacy giant will be implementing vehicles made by U.S. based BYD (Build Your Dreams), which means they can make commercial deliveries with zero carbon emissions. Loblaw has also committed to investing in hybrid-refrigerated trailers. The company estimates they will be able to reduce over 90 thousand tonnes of carbon dioxide emissions per year. To put it in perspective, this would be about the equivalent of taking 20,000 cars off the road.
Representatives from Loblaw told trucking news recently that they want to be a leader among Canadian retailers when it comes to demonstrating a positive impact on the environment.
Loblaw Companies say the electric trucks are part of the corporation's goal to cut its emissions 30 percent by 2030. Loblaw environmental efforts also include waste diversion tactics. The goal is to improve waste diversion by 80 percent in stores and over 90 percent in distribution facilities.
Loblaw is not the only organization that is moving towards more sustainable practices. Today, countless companies see environmental practices as a necessity as opposed to an option. Many businesses are either seriously looking at low emission vehicle options and/or promoting the use of electric transportation.
Last year, Spinx Co. Inc., a chain of convenience stories in South Carolina that also include gas stations, unveiled one of seven Level 3 charging sites at a Spinx store in Greenville. This move is not so unusual though. Some energy experts say it will soon be the norm for many business operators.
The EV boom has begun in Europe and the theory is that it is only a matter of time before it spreads to other parts of the world. Lets take Norway as an example. There is a highway in the middle of nowhere that runs between Oslo and Lillehammer. Some people refer to it as a perfect example of the "future." Within the next few months, owners of electric cars will be able to charge their battery is about 10 minutes (about one-third of the time it normally takes), and order food that is not normally found at a typical gas station/convenience store. This is just off that highway – 55 kilometres north of Norway's capital.
Power and food services might not be new, but many are predicting the way you power up both physically and in terms of transportation is quickly changing. If you haven't already noticed EV advancing, don't be surprised to see electric charging stations at stores near you in the not-so-distant future.