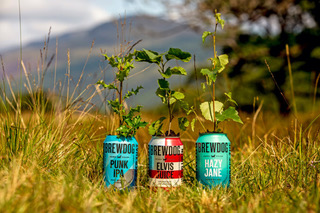 – Lane Simonds:
Not everyone has the ability or drive to make a strong climate statement, but a craft brewery originally developed in Scotland is certainly going the extra mile to do so. BrewDog has taken significant steps to reduce carbon emissions and show the world that going green must be done.
Recently, BrewDog was featured in the popular business magazine Fast Company for their efforts to reduce carbon emissions and even purchase its own forest.
As it turns out, BrewDog runs on wind power and gas made from malted barley as a way to reduce emissions. However, the company, which also operates a number of pubs, owns a 1,500-acre forest. BrewDog has plans to restore the forest to help sequester carbon. Management expect to sequester about 300,000 tons of CO2, but until that happens the company funds other carbon removal projects.
As reported by Fast Company, BrewDog is officially carbon negative. In fact, it removes twice as much carbon from the atmosphere than it emits. This isn't enough for the climate-focused brewery though. They are going even further by constructing an anaerobic digester to turn spent grains into biomethane to heat equipment. The digester can also be used to clean wastewater produced during production of their products, as well as produce CO2 to be used to carbonate beverages. Soon, BrewDog will make switch to using electric vehicles. Still, this doesn't appear to be the end of their green efforts. There has been talk of creating new products from really bitter beer that can't be used in their current product line.
The Scottish brewery likes to make noise. For instance, they state right on their website that they have taken plastic out of their supply chain, and they even made a "protest beer" when U.S president Donald Trump pulled out of the Paris Agreement on Climate Change. They want other companies to see what they are doing and take positive climate action as well.
As they say at BrewDog: "If we don't have a planet to brew beer on, then our whole business is pretty pointless."
*Image courtesy of Brewdog