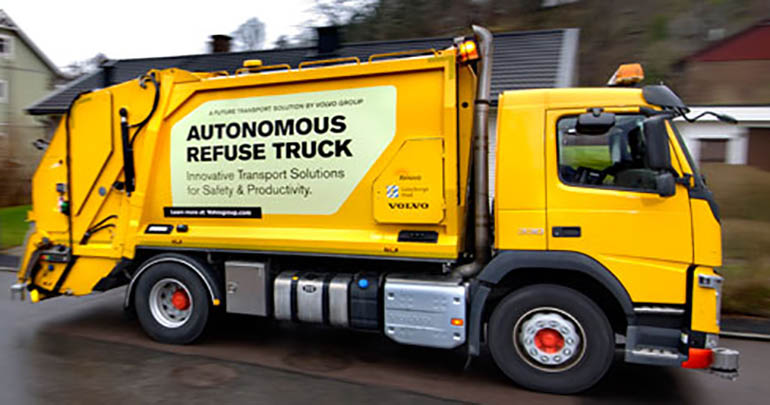 Teresa Madaleno
We all know that generating garbage is a problem. Engineers, scientists, and environmentalists have spent decades developing ways to deal with reducing, reusing and recycling waste in an effort to make our world cleaner. Now two companies have come together to try a different approach to reducing the environmental impact of garbage.
Any garbage that does not get reused has to be picked up and those large refuse trucks can be fuel guzzlers. According to Trucking Info, Volvo Group and the Swedish waste and recycling company, Renova are testing a self-driving garbage truck. The idea is to determine how such a vehicle can be used in urban areas to reduce greenhouse gas emissions.
As it turns out, the self-driving garbage truck has gear changing, steering and speed that are constantly adjusted for low fuel consumption and emissions. Some of the technology being used in the autonomous garbage truck is also in Volvo's autonomous mining truck that was unveiled in 2016.
While reducing fuel consumption and lowering emissions is a big part of the self-driving vehicle, it is also designed in a way that makes driving safety a priority. For instance, the truck has sensors that monitor the vicinity it is in and the vehicle stops immediately if an obstacle suddenly appears in its path. The driver is left to focus on collecting garbage and no longer has to jump in and out of the cab each time the truck moves to another collection bin.
Volvo and Renova aren't the only companies that have thought about making garbage pick-up cleaner. Last year (2016) Mack introduced the Mack Truck LR garbage collection truck to the world. It can run on diesel, biodiesel, liquid natural gas, landfill gas, heating oil and more. The designers have said that it is intended to reduce emissions and maintenance needs.
While many innovators agree that we should continue to focus on the three R's – Reduce, Reuse, and Recycle, it's likely there will always be a need to collect a certain amount of garbage. This means others will have to take over the fight in reducing waste and emissions. Companies like Volvo, Renova and Mack are prompting industry competitors to consider what part they will play.