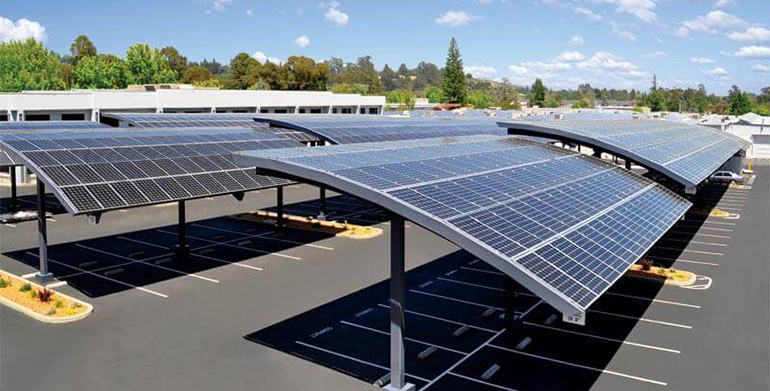 Teresa Madaleno
We all know that the state of Florida has had its share of weather related catastrophes. While some may sit by and say there is little we can do to fight the growing problems global warming throw at us, there are still a lot of people who are firm in the belief that we have the power to change our environment. This includes young men and women.
We have blogged in the past about students, faculty, and campus administration taking steps to make their college's and universities more energy efficient and now Florida State University students have unveiled their university's solar carport. The sustainable energy initiative is part of a partnership with Duke Energy Florida. The University reports that the carport is expected to power about 15 percent of the new biology and chemistry labs on campus.
The solar carport is considered an important part of the university's climate action plan aimed at reducing greenhouse gas emissions by 50 percent by 2035. Solar carports are not a new concept. In 2015 Michigan State University Board of Trustees approved the implementation of large solar carports in five campus locations. Some of the solar panels are now in place and when this project is complete it is expected to be one of the biggest, if not the biggest solar carport system in the U.S. MSU News reports that the solar carports will save the university 10 million dollars in electricity over the next 25 years.
What are solar carports?
Just in case you have never heard of solar carports, they are overhead canopies designed to cover parking areas. They are similar to ground mount solar panels in that they don't require a surface to mount the panels. However, the difference is that solar carports must be taller to make space for a car to park under.
The best thing about solar carports is that you don't need additional land to install them the way you do with ground mount solar. In other words, solar panel carports are a more efficient use of space.
Today more commercial enterprises and other businesses are investigating the solar carport concept. Grocery stores, for example, use a lot of electricity and usually have large parking lots. BriarPatch Co-op in the United States has been able to reduce its annual utility costs by over $70,000 per year by using solar panel carports in their large parking lot.
Here's something else to think about – many solar structures allow for further renewable energy expansion, such as adding electric vehicle charging stations.