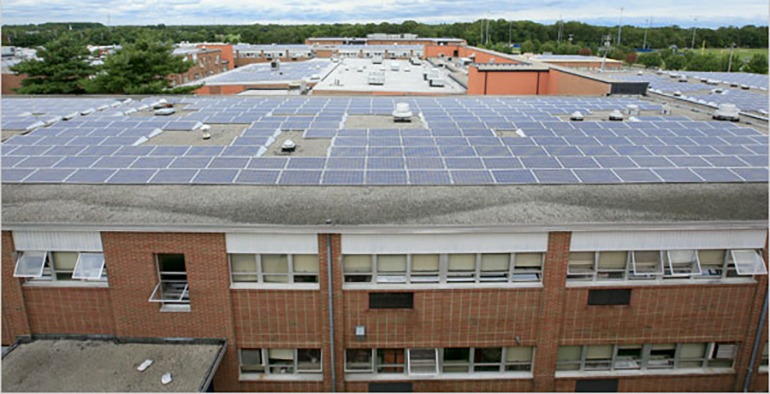 Teresa Madaleno
There are close to 4 thousand k-12 schools in the United States running on solar power. According to the Environmental News Network, three thousand of them installed the power systems within the last 6 years.
Many in the solar power industry believe the use of the systems in schools is an indication that both school and state officials now recognize the environmental and financial benefits that come with solar installation.
Setting an example, West Sonoma County Union High School District, hit hard by budget cuts 6 years ago, needed to find a way to save money and deal with increasing energy costs. A solar power capital improvement project became the solution.
There are also schools in New Jersey, Arizona, Massachusetts and New York with solar power systems. It has been suggested that each saves over 20-thousand per year in utility bills.
As installers point out, schools are perfect for solar panels. They are often one-story buildings with wide, flat roofs, making installation easy. Many schools can also install solar canopies in parking lots, which can provide shade while producing electricity on land that is already in use.
School officials say one of the attractions to solar is "solar electric systems require almost no maintenance". They also like the fact that they don't generate a lot of noise that would otherwise distract students. Schools are a place of learning and while the idea is to become more environmentally and economically sustainable, solar panels also provide a chance for students to learn about the planet and alternative energy. Some schools have worked the installation of solar panels on their properties into the curriculum.
The Lawrenceville School located near Trenton New Jersey has one the of largest solar powered school sites. They have a 6.1 MW system covering a 30-acre site on the campus on their 800-student private high school. Climatewire has reported that solar produces 90 percent of the school's electricity and that they sell excess power to Public Service Electric Gas under a net-metering arrangement.
As it turns out the site also has a wildflower garden that attracts bees, which pollinate fruits and vegetables in a garden on the school property.
In Plymouth, Mass., there is another large array of solar panels to serve a school system. It produces 5.57 MW of capacity. It meets about 60 percent of the Plymouth school system's energy needs and is said to generate $500,000 in annual energy building savings.
The Solar Energy Industries Association applauds the efforts of all schools using solar, but says more schools should jump on board to help make a significant difference.