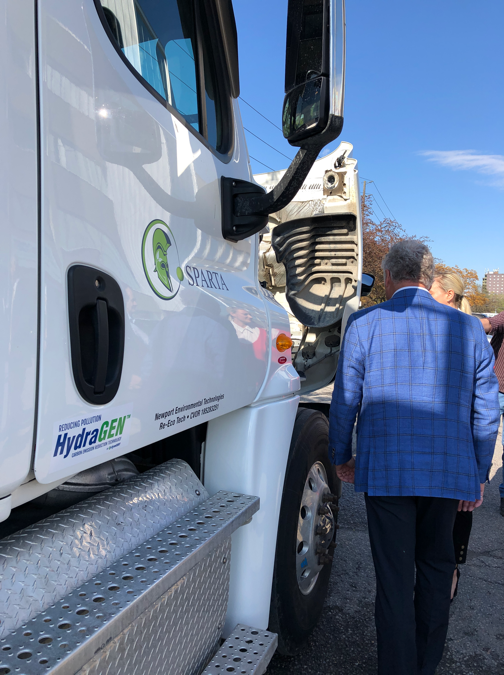 ● Sparta President John O'Bireck among speakers at gathering with Environment Minister.
● Dealing with the fallout from China's closed door policy on recyclables.
What's Happening?
Earlier this month, Sparta President John O'Bireck was asked to speak at a dynaCERT unveiling, also attended by Ontario's Minister of Environment, Rod Phillips and Minister of Transportation, Jeff Yurek. Mr. O'Bireck was requested to outline the relationship between the two companies, which included Sparta's plan to convert enough single use plastic from the GTA to power their entire fleet of highway tractors that operate in Southern Ontario, across the 401 corridor. In order to optimize the performance of the transformed plastic, each rig will be outfitted with dynaCERT's HydraGEN™ technology that not only improves efficiency but also reduces harmful emissions in the process.
"We are not just preaching environment first, we are living environment first. It just makes sense for our fleet to lead the way with technologies that can minimize our carbon footprint while at the same time enhancing our efforts as we look to transform single-use plastics into something practical and valuable; further reducing our carbon impact. If we can do it and demonstrate how the blending of these Canadian technologies can have a synergistic effect, others will follow," said, John O'Bireck. He went on to explain that with HydraGEN's inherent ability to measure and track GHG emissions, we will also be able to quantify the effects derived through this application of chemistry.
Both Ministers applaud companies like dynaCERT and Sparta for investing the time and human capital in developing the kind of products and services that are going to help the province hit objectives in terms of reducing CO2 by 30 percent by 2030.
New Ways to Deal With Plastic Waste
As countries like Canada and the United States grapple with what to do with waste that China will no longer accept, Sparta Group forges ahead with plans to transform waste plastics into eco-friendly fuels.
For decades, China accepted recyclables from other countries. It was often sent by ships, with some being made into shoes, bags and new plastic products. However, last year the country restricted imports of certain recyclables, including plastics. Now, as pointed out by current news reports on recycling, waste management companies are saying they no longer have a market for all the plastics they receive. Meanwhile, for the past couple of years Sparta has been working towards securing partnerships to use this type of waste to transform it into such things as environment-friendly synthetic fuels.
"We are one company on the verge of opening up a facility in the GTA to transform plastic waste, along with our partners, but we strongly believe our waste-to-fuel technologies are scalable, thus giving many jurisdictions in Canada and throughout the world an opportunity in the near future to put plastic waste to good use," said John O'Bireck, President of Sparta Capital.
Sparta management and staff realize they can't solve the plastics dilemma alone. They call it a "responsibility for all of us". Still, the clean energy company is hopeful about the future as others develop ways to reduce waste. For example, plastics are being turned into roads; major restaurants chains, like McDonald's are going waste free; and more markets are being inspired to reduce waste in the wake of such initiatives as Toronto's zero waste store, "Unboxed" opening its doors.
"No, we can't solve this problem overnight, but there are technologies and there are efforts underway that will give our environment a fighting chance if more people and companies around the world respect the make-up of their waste, paying closer attention to how they might put their waste to better use, especially plastics," said O'Bireck.