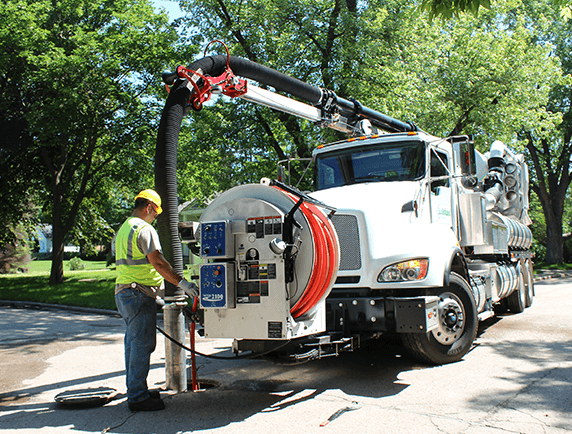 April was dig safe month across North America; a time dedicated to raising awareness of safe digging practices. Dig safe month always coincides with the unofficial start of spring since it is usually the time the ground thaws, making it easier for both homeowners and contractors to start digging.
While vac trucks were initially adopted in Canada for use in the Alberta Oil Sands, it was soon realized that they could be used as a non-destructive, environment-friendly way to quickly and safely expose underground infrastructure, such as gas pipes and telecommunications cables; replacing the highly invasive back-hoe. Now, the application of this excavation method has expanded to include landscape services. Today municipalities, subdivisions, and individual homeowners are more interested in protecting landscape features and therefore appreciate what the vac truck has to offer, over the traditional back-hoe. For instance, trenching can be accomplished with vac trucks without destroying surrounding landscape features. With a vac truck, accessing a piece of property with heavy, damaging equipment is not necessary. In most cases, a remote hose can be used to reach a work site.
Today, when people are designing landscape features, the vac truck is used so that land/earth destruction can be kept to a minimum. There is no need to have an entire property torn to shreds to put in water fountains or large private or public gardens.
Landscaping Services Canada market research suggests that both the commercial and residential construction market is expected to create consistent demand for landscaping services through to 2022. This includes, safe, environment conscious excavation. Right now demand for this type of service is high throughout the Greater Toronto Area where multi-family and commercial construction creates need for good, safe landscaping.
What's Happening?
Our ReECO Tech™ division has a fleet of vac trucks used in both commercial and residential applications. ReECO Tech™crews are on the job after going through rigorous safety training. Furthermore, since ReECO Tech™ Vac trucks are used under all sorts of circumstances, including extreme weather conditions, bad roads, and rough terrain, regular maintenance and repair becomes crucial. We don't want our equipment out of service when demand is high so we've put together a team to handle quality and quick repairs. Thanks to this in-house repair team, we can maximize the productivity of our fleet, while reducing repair costs.