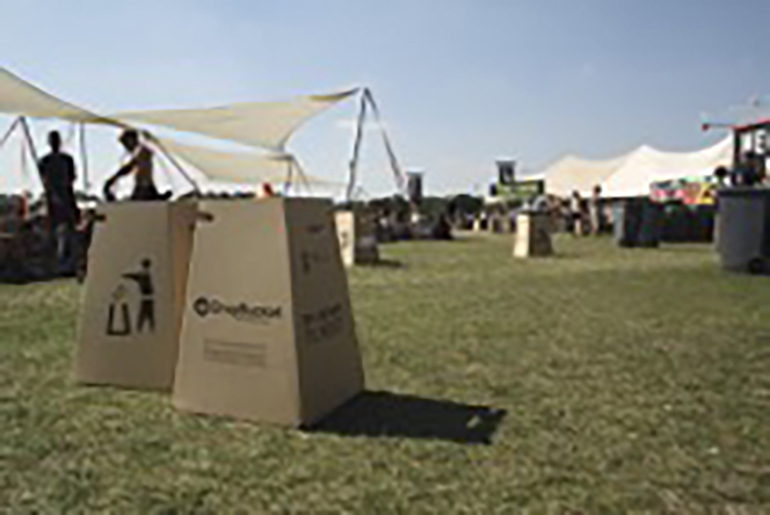 Teresa Madaleno
Sometimes, just sometimes, invention comes out of a feeling of desperation and the results can be surprising. You could say this was the case with the Dropbucket.
The Dropbucket is a waste management solution developed by two young students studying product design at the Technical University of Denmark.
A few years ago Hedia Nolsoe and Marie Bergggreen were concerned when they heard one of their favourite music festivals was at risk of closing. The reason – the site could no longer handle the mounds of garbage generated by crowds of music fans. Instead of allowing panic to set in, they faced the issue head on by putting what they learned in school into practice.
"So we thought, how can we make a waste bin that you can easily put up so people can get rid of trash and don't have to walk long distances to find bins?" Marie Berggreen told reporters after launching the bins in 2013.
Festivals normally use large metal or plastic bins that are spread out across several acres and have to be picked up by large trucks. As a result, people tend to get lazy and drop garbage on the ground.
The dropbucket, which comes in different sizes, is made of recycled cardboard. Many refer to it as the sustainable trash bin.
"It can be put up in less than a second and, after you've used it, you can just throw it out with the trash inside", Hedia Nolsoe recently explained to treehugger.com
Users of the bin have reported that despite what you might imagine, it has a low center of gravity so you don't have to worry about wind carrying the dropbucket away when it is half empty. Essentially, the bucket is foldable so it is easy to store, carry and transport. The bucket is also easy to put up, taking a matter of seconds. Depending on what type of waste is put in it, you are able to use it over and over again.
Since the dropbucket was unveiled, event planners, schools, offices and even some municipalities have used it. The trash bin has won several awards, including both design and green awards.
Three years after the Dropbucket was introduced at the music festival and the young designers or should we now call them entrepreneurs seem to be attracting interest from investors. They have been able to hire two employees and moved into an office in Copenhagen so they can provide products for commercial and residential use.
Photo courtesy of dsSmith.