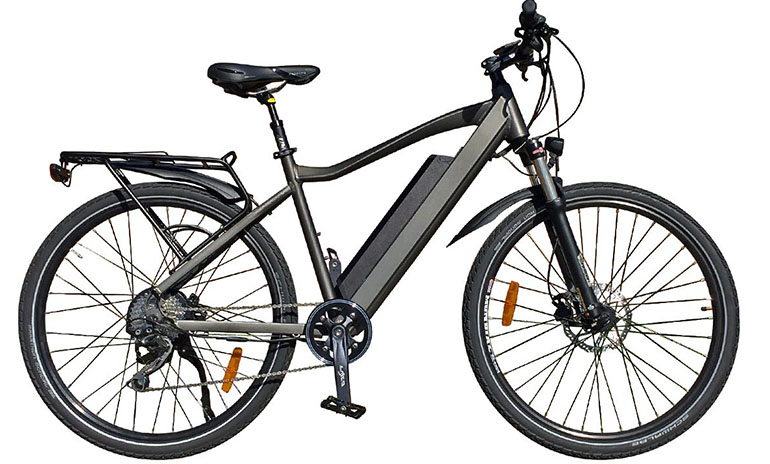 Teresa Madaleno
Many people are aware that electric car sales are rising. In sunny states, the popularity of e-vehicles is obvious, but in northern climates, including Canada, it can be less noticeable. Still, according to FleetCarma, a cleantech information and communications company, Canadian electric vehicle sales are up 56 percent over last year. Now, the electric vehicle fever seems to be spreading to the bike. E-bikes are growing in popularity all around the world.
An e-bike is described as a motorized bicycle that looks like a conventional bike. Generally, an e-bike has a very low impact on the environment. If you were to use an e-bike for 1,000 miles each year, this would use somewhere between 20,000 and 25,000 watt hours. This would be equivalent to running a medium sized air conditioning unit for about 24 hours. Some people look to portable generators to charge their electric bicycles so they can avoid the grid. People who know bikes say while they are popular among those who like the idea of reducing dependence on fossil fuel, they are also a big draw due to the health component. Baby boomers are buying e-bikes since you still pedal with them and can get a considerable amount of exercise, while young people love them because they are simply a lot of fun to ride.
Car companies are recognizing the interest or should I say, competition in e-transportation. For example, Ford joined forces with electric bicycle company, Pedego to develop a bike called the "Super Cruiser" a few years ago. Additionally, many states and provinces have had to formulate regulations for e-bikes because so many people are now using them as a regular mode of travel. Each jurisdiction has set speed limits, policy on horsepower, a maximum weight rule, and even bicycle modification restrictions. In most areas, the e-bikes do not require a license to operate; however, there are many states that require a specific registration and have limits on age. In Ontario, you have to be 16-years-old to operate an e-bike.
After speaking with both manufacturers and riders we came up with a long list of benefits to e-bikes:
• They are kind to the environment
• You can arrive at your destination refreshed, not sweaty and out of breath
• You have no trouble finding parking. You lock up the bike and you are set.
• Sometimes an e-bike can speed up the commute as opposed to sitting on a bus or train
• You can switch to manually pedaling to help achieve your fitness goals whenever you want.
• Your e-bike can expose you to fresh air
• If you own a car, you will put less wear and tear on it, thus saving money in maintenance.
• It saves you money on gas
Some electric bicycles, like the recently developed folding e-bike from London's Brompton, can be a little on the pricey side – running close to $3000 U.S., others are priced in the $700 to $1,000 range. With the growing popularity of e-bikes, Forbes predicts that the pricing will come down.
Cool, stylish and affordable means the e-bike is likely going to be a big part of our future transportation picture. Whether you are considering riding one or not, it is worth checking out the regulations in your jurisdiction to get a better handle on the do's, as well as don'ts, of both e-cycling and respecting those who do use this mode of transportation.