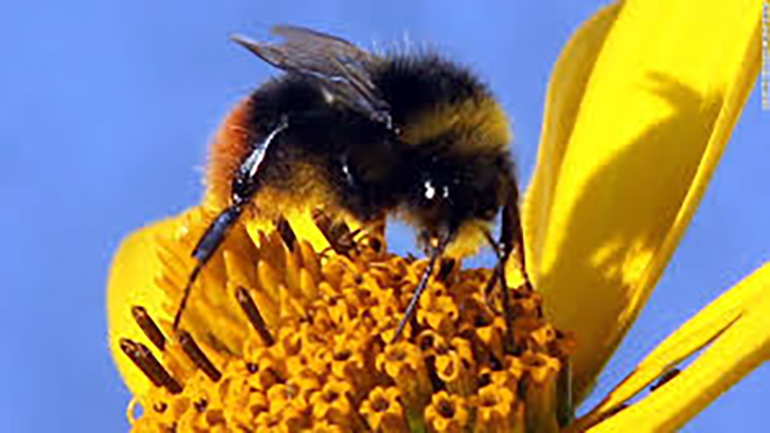 Jacqueline Mullin
A well-balanced diet, filled with fruits and veggies of all colours and flavours is believed to be a key component of a healthy North American lifestyle. Apples, blueberries, cherries and almonds add variety in nutrients to daily menus. So it is important to consider the impact the loss of these foods, and a wealth of others would have on the human population.
Scientists have been sounding the alarm about declining bee populations for a number of years, but the threat to the species continues to escalate. The list of stressors – pesticides, parasites and a loss of varied and plentiful food sources has expanded to include habitat loss and climate change.
A vast number of crop plants are pollinated in whole, or in part, by honeybees, including kiwi, strawberries, papaya, watermelon, Cauliflower, Broccoli, Mustard, Red peppers, chili peppers, lemons, limes, sunflowers and flax.
In a technical report, published in 2013 by researchers at Greenpeace International, the shift in the timing of the honeybee migration was linked to a change in Polish weather patterns; a change linked to climate change. In a phenomenon known as "season creep" observations of the bees over a 25-year time span showed that their migration now begins approximately one month earlier then it did when the study began.
In a study focusing on the impact of climate change on bee populations, Jeremy Kerr, a biodiversity researcher at the University of Ottawa was quoted as saying that "bumblebee species across Europe and North America are declining at continental scales. Our data suggests that climate change plays a leading, or perhaps the leading, role in this trend."
Adaption in species populations has allowed a number of animals, plants, and insects to continue to survive and in some cases thrive as the earth's temperatures increase and the landscape changes due to climate change. However, as bees loose habitat in the south their populations are not expanding north to compensate for the loss in range. Experts say entire species have become extinct and the process doesn't appear to be slowing down. Researchers are calling for comprehensive plans to address climate change, ultimately focusing on the need to save the bees.